Inktcartridges of toners zoeken?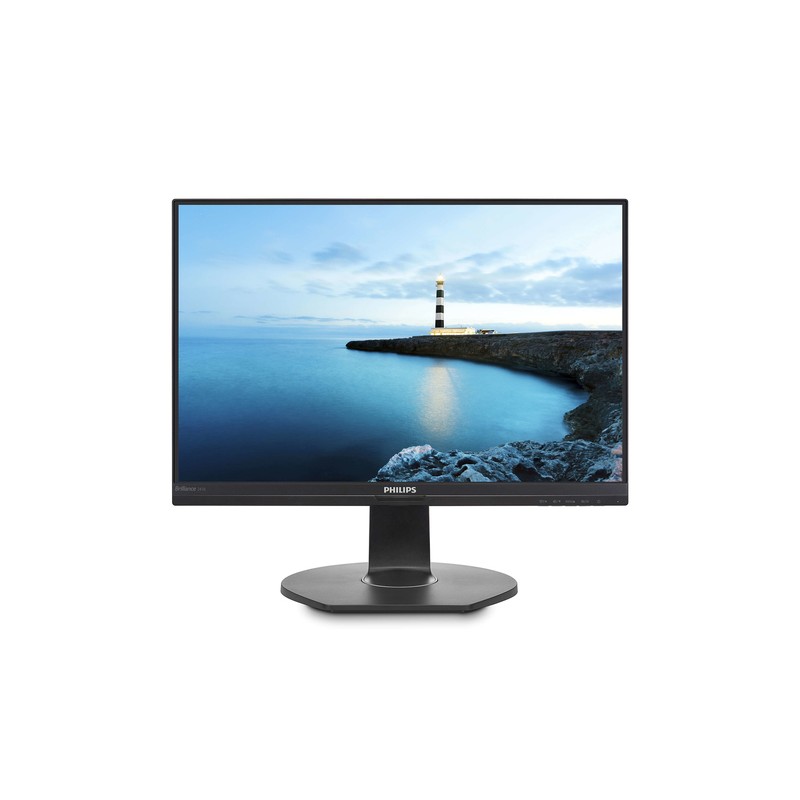  
Philips B Line LCD-monitor met USB-docking 241B7QUPEB/00

B Line LCD-monitor met USB-docking

Beveiligde betaling
Levering
Retourzendingen en garantie
A pair of high-quality stereo speakers built into a display device. They may be visible front firing, or invisible down firing, top firing, rear firing etc. depending on model and design.
Thanks to its advanced SmartErgoBase, the Philips monitor can be lowered down almost to desk level for a comfortable viewing angle. Low bezel-to-table height is the perfect solution if you use bifocals, trifocals or progressive lens glasses for your computing work. Additionally, it allows users of different heights to use the monitor at their preferred angle and height settings, helping them to reduce fatigue and strain.
SmartImage is an exclusive leading edge Philips technology that analyses the content displayed on your screen and optimises your display performance. This user-friendly interface allows you to select various modes, like Office, Photo, Movie, Game, Economy etc., to fit the application in use. Based on the selection, SmartImage dynamically optimises the contrast, colour saturation and sharpness of images and videos for ultimate display performance. The Economy mode option offers you major power savings. All in real time at the touch of a single button!
The SmartErgoBase is a monitor base that delivers ergonomic display comfort and provides cable management. The user-friendly height, swivel, tilt and rotation angle adjustments of the base allow the monitor to be positioned for maximum comfort to help ease the physical strains of a long workday. In addition, cable management reduces cable clutter and keeps the workspace neat and professional.
Due to the way brightness is controlled on LED-backlit screens, some users experience flicker on their screen which causes eye fatigue. Philips Flicker-Free technology applies a new solution to regulate brightness and reduce flicker for more comfortable viewing.
Studies have shown that just as ultra-violet rays can cause eye damage, shortwave-length blue light rays from LED displays can cause eye damage and affect vision over time. Developed for wellbeing, the Philips LowBlue Mode setting uses a smart software technology to reduce harmful shortwave blue light.
IPS displays use advanced technology that gives you extra-wide viewing angles of 178/178 degrees, making it possible to view the display from almost any angle — even in 90-degree Pivot mode! Unlike standard TN panels, IPS displays gives you remarkably crisp images with vivid colours, making it ideal not only for Photos, films and web browsing, but also for professional applications that demand colour accuracy and consistent brightness at all times.
The new Philips displays feature ultra-narrow borders which allow for minimal distractions and maximum viewing size. Especially suited for multi-display or tiling setups like gaming, graphic design and professional applications, the ultra-narrow border display gives you the feeling of using one large display.
This innovative large Philips display enables easy port replication for any notebook. Particularly suitable for the latest Ultra book type devices with limited connectors, this display with built-in USB 3.0 hub, Ethernet and stereo speakers enables you to transmit video, audio and connect to Internet or intranet directly, using a single cable USB connection. With this advanced USB 3.0 or USB 2.0 plug and play connection, you can now expand your desktop using both your NBPC and Philips display's real-estate without having to worry about cumbersome resolution adjustments or mess around with cables.
You now have the option to connect a full sized keyboard and mouse to the Philips display's USB hub to improve your productivity. Simply connect your Notebook to this display with a single USB cable, and you are ready to utilise the additional peripherals such as the external HDD, camera, USB drive along with Full HD video, Audio and Internet functions. Should you prefer, you can of course still utilise your NBPC's keyboard and track pad as usual.
Dit innovatieve multimediabeeldscherm met notebook-dock laat u eenvoudig poorten repliceren. Breid uw visuele werkruimte uit, houd alle randapparatuur aangesloten en maak verbinding met internet - en dat alles met één SuperSpeed USB-kabel.

Philips B Line LCD-monitor met USB-docking 241B7QUPEB/00. Beeldschermdiagonaal: 60,5 cm (23.8"), Resolutie: 1920 x 1080 Pixels, HD type: Full HD, Display technologie: LED, Responstijd: 5 ms, Oorspronkelijke beeldverhouding: 16:9, Kijkhoek, horizontaal: 178°, Kijkhoek, verticaal: 178°. Ingebouwde luidsprekers. Ingebouwde USB-hub, Versie USB-hub: 3.2 Gen 1 (3.1 Gen 1). VESA-montage, In hoogte verstelbaar. Energy Star-certificaat, Kleur van het product: Zwart




Datasheet
Responstijd

5 ms

Gewicht (met standaard)

5,95 kg

Ondersteunde grafische resoluties

1920 x 1080 (HD 1080)

Grootte beeld (verticaal)

29,6 cm

AC invoer frequentie

50/60 Hz

Rand voorzijde

Zwart

Stroomverbruik (PowerSave)

11,1 W

Knippervrije technologie

Ja

Maximale refresh snelheid

75 Hz

Ingebouwde USB-hub

Ja

Scharnier

Ja

sRGB

Ja

Component video sync

Separate sync,Sync-on-green (SOG)

Breedte apparaat (met standaard)

541 mm

Kijkhoek, horizontaal

178°

Temperatuur, in bedrijf

0 - 40 °C

Audio-ingangen

Nee

Aantal upstream-poorten

2

Digitale verticale frequentie

56 - 75 Hz

Contrast ratio (dynamisch)

20000000:1

Mean time between failures (MTBF)

70000 uur

Aantal luidsprekers

2

Hoogte apparaat (met standaard)

527 mm

Ingebouwde camera

Nee

Hoogte bij opslag

0 - 12192 m

Staander inbegrepen

Ja

Gemiddeld vermogen

4 W

Beeldscherm, aantal kleuren

16.78 miljoen kleuren

PC audio ingang

Nee

In hoogte verstelbaar

15 cm
Ja

LED-indicatoren

Stroom, Slaapstand

Beeldscherm vorm

Flat

On Screen Display (OSD)-talen

Vereenvoudigd Chinees, Traditioneel Chinees, Tsjechisch, Duits, Engels, Fins, Frans, Grieks, Hongaars, Italiaans, Japans, Koreaans, Pools, Portugees, Russisch, Zweeds, Turks, Oekraïens

Grootte beeld (horizontaal)

52,7 cm

Horizontaal draaibaar

-175 - 175°

Helderheid (typisch)

250 cd/m²

Sync-on-green (SOG)

Ja

Pixel pitch

0,275 x 0,275 mm

Backlight type

W-LED

Plug and play

Ja

Ondersteunde video-modi

1080p

AC invoer voltage

100 - 240 V

Hoofdtelefoon uit

Nee

Stroomverbruik (in standby)

0,3 W

Laag-blauw-licht-technologie

Ja

Paneelmontage-interface

100 x 100 mm

Frequentiebereik horizontaal

30 - 83 kHz

Aantal On Screen Display-talen

21

Versie USB-hub

3.2 Gen 1 (3.1 Gen 1)

Digitale horizontale frequentie

30 - 83 kHz

HDMI

Nee

Typisch stroomverbruik

14,2 W

Display technologie

LED

Hoek schuine stand bereik

-5 - 30°

Schermdiameter in centimeters

60,5 cm

Kijkhoek, verticaal

178°

Pivot hoek

90 - 90°

Meegeleverde kabels

AC,USB,VGA

Aantal USB Type-A downstream-poorten

1

On Screen Display (OSD)

Ja

Aan/uitschakelaar

Ja

Hoogte, in bedrijf

0 - 3658 m

Voetenkleur

Zwart

VESA-montage

Ja

Diepte apparaat (met standaard)

257 mm

Frequentiebereik verticaal

56 - 75 Hz

kantel aanpassingen

Ja

Oorspronkelijke beeldverhouding

16:9

AMD FreeSync

Nee

Apparte H/V sync

Ja

Draaibaar

Ja

DVI-poort

Nee
Non

Kabelslot sleuf type

Kensington

VGA (D-Sub)poort(en)

1

Typische contrastverhouding

1000:1

Beeldverhouding

16:9

NVIDIA G-SYNC

Nee

Resolutie

1920 x 1080 pixels

Markt positionering

Thuis

Energy Star-certificaat

Ja

Bevestigingsmogelijkheid voor kabelslot

Ja

Gewicht

3,52 kg

Breedte

541 mm

Diepte

57 mm

Gebruikershandleiding

Ja

Ingebouwde luidsprekers

Ja

HD type

Full HD

3D

Nee

Beeldschermdiagonaal

60,5 cm (23.8")

Soort paneel

IPS

Hoogte

332 mm

Pixeldichtheid

93 ppi

Relatieve luchtvochtigheid, in bedrijf

20 - 80 procent

Geïntegreerde TV Tuner

Nee

EPEAT compliance

Gold

Temperatuur bij opslag

-20 - 60 °C

Certificering

CE Mark, FCC Class B, SEMKO, cETLus, CU-EAC, TUV Ergo, TUV/GS, EPA, WEEE, UKRAINIAN, ICES-003, SASO, KUCAS

Printkleuren

Zwart

Diagonale afmeting (inches)

24"