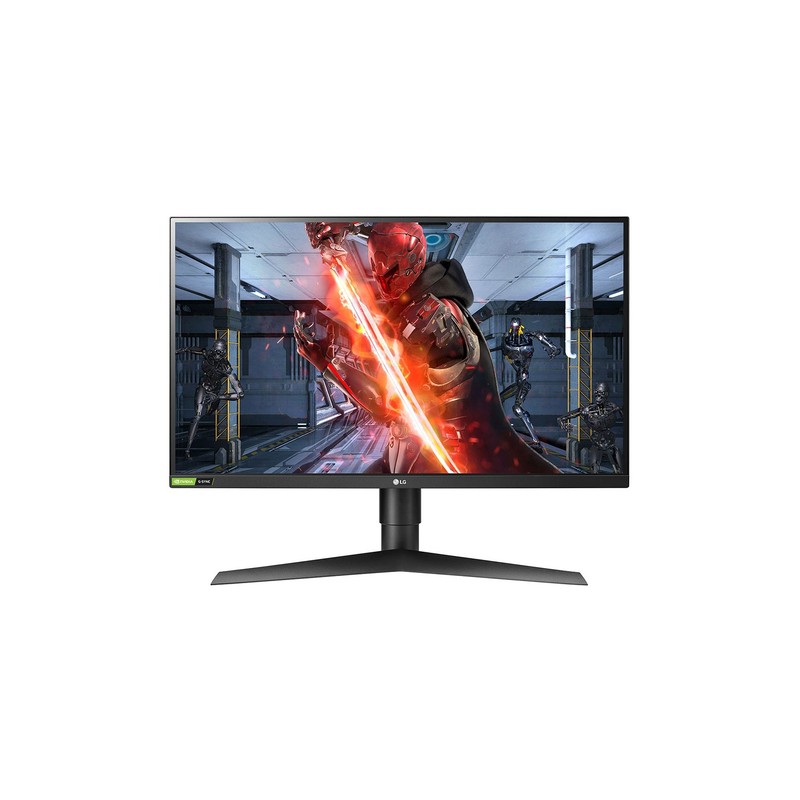  
LG 27GL850-B LED display 68,6 cm (27") 2560 x 1440 Pixels WQHD Flat Zwart, Rood
Manufacturer:
LG Electronics

68.58 cm (27") NANO IPS 2560 x 1440 px, 350 cd/m², 1 ms, RADEON FreeSync 144 Hz, HDMI, DisplayPort, USB

Beveiligde betaling
Levering
Retourzendingen en garantie
Geared Up for Victory LG UltraGear™ is the powerful gaming display gear integrated with the hi-performing functions which can respond to any blockbuster games. Your Dream Gaming Monitor The value of a UltraGear™ monitor is total immersion. You can experience breath-taking gaming performance that surpasses your expectations through 27GL850 with Nano IPS 1ms called the most ultimate gear. Feel Actual Combat with True Colours 27GL850 supports a wide colour spectrum, 98% of the DCI-P3 colour gamut and a colour range 35% greater than sRGB 100%, expressing high-fidelity colour for reproducing even more vivid scenes on the battlefield. Incredible Speed to Victory If you're fed up with dimming and flickering screens, you've come to the right monitor. With IPS 1ms, you'll dominate and clinch victory-without the side effects of extreme speed. G-Sync® Compatible Certified by NVIDIA LG 27GL850 Monitor is a NVIDIA-tested and officially verified G-Sync® Compatible monitor, eliminating screen tearing and minimizing stutter for a smoother, faster gaming experience. Clearer, Smoother and Faster With Adaptive-Sync technology, gamers can experience seamless, fluid movement in hi-resolution and fast-paced games. It virtually eliminates screen tearing and stuttering. Fluid Gaming Motion A ultra-fast speed of 144Hz allows immediate action on the screen. Objects are rendered more clearly for smoother game play and an almost surreal visual fluidity. Greater Clarity, More Realistic 27GL850 supports HDR 10, enabling realistic visual immersion. Regardless of the battlefield, gamers experience the sensation of being in the center of it. React Faster to Opponents Minimize input lag with Dynamic Action Sync so gamers can catch every single moment in real-time. Attack First in Dark Gamers can avoid snipers hiding in the darkest places and quickly escape situations when the flash explodes. Better Aim Target point is fixed in the center to enhance shooting accuracy. Immersive Gaming Ambiance It's 3-side virtually borderless design and the base can be adjusted to change the tilt, height and pivot of the monitor to help you play game more comfortable.

LG 27GL850-B. Beeldschermdiagonaal: 68,6 cm (27"), Resolutie: 2560 x 1440 Pixels, HD type: WQHD, Display technologie: LED, Responstijd: 1 ms, Oorspronkelijke beeldverhouding: 16:9, Kijkhoek, horizontaal: 178°, Kijkhoek, verticaal: 178°. Ingebouwde USB-hub. VESA-montage, In hoogte verstelbaar. Kleur van het product: Zwart, Rood




Datasheet
Hoogte apparaat (met standaard)

574,8 mm

AC invoer voltage

100 - 240 V

Frequentiebereik verticaal

56 - 144 Hz

Ingebouwde USB-hub

Ja

Ondersteunde grafische resoluties

2560 x 1440

Display technologie

LED

Typisch stroomverbruik

39 W

Aantal USB Type-A downstream-poorten

2

Ingebouwde camera

Nee

Pixel pitch

0,2331 x 0,2331 mm

VESA-montage

Ja

Meegeleverde kabels

DisplayPort,HDMI,USB

Scharnier

Ja

Oorspronkelijke beeldverhouding

16:9

Plug and play

Ja

AMD FreeSync

Ja

Paneelmontage-interface

100 x 100 mm

Jaarlijks energieverbruik

57 kWu

Frequentiebereik horizontaal

30 - 160 kHz

DDC/CI

Ja

Stroomverbruik (in standby)

0,5 W

Maximale refresh snelheid

144 Hz

Helderheid (typisch)

350 cd/m²

Schermdiameter in centimeters

68,47 cm

AC invoer frequentie

50/60 Hz
50/60 Hz

Kijkhoek, verticaal

178°

Hoek schuine stand bereik

-5 - 15°

Aantal On Screen Display-talen

18
18

Hoofdtelefoon uit

Ja
Ja

Diepte apparaat (met standaard)

274,4 mm

Aantal upstream-poorten

1

Pivot hoek

0 - 90°

Energie-efficiëntieklasse

B

HDMI

Ja

Beeldscherm, aantal kleuren

1.073 biljoen kleuren

Snelstartgids

Ja

kantel aanpassingen

Ja

Beeldscherm vorm

Flat

In hoogte verstelbaar

11 cm
Ja

On Screen Display (OSD)

Ja

HDR-ondersteuning

Ja

Breedte apparaat (met standaard)

614,2 mm

Kijkhoek, horizontaal

178°

Gewicht (met standaard)

6,1 kg

Draaien

Ja

Responstijd

1 ms

Knippervrije technologie

Ja

DVI-poort

Nee
Non

Typische contrastverhouding

1000:1

NVIDIA G-SYNC

Nee

Resolutie

2560 x 1440 pixels

Markt positionering

Gamen

Gewicht

4,2 kg

DisplayPort versie

1.4

Breedte

614,2 mm

Diepte

56,3 mm

Gebruikershandleiding

Ja

HD type

WQHD
WQHD

3D

Nee

Beeldschermdiagonaal

68,6 cm (27")

Soort paneel

IGZO
IGZO

Hoogte

364,8 mm

Geïntegreerde TV Tuner

Nee

Aantal DisplayPorts

1

Diepte verpakking

208 mm

Hoogte verpakking

522 mm

Breedte verpakking

741 mm

Aantal HDMI-poorten

2

Gewicht verpakking

9,4 kg

Printkleuren

Zwart, Rood

Diagonale afmeting (inches)

27"